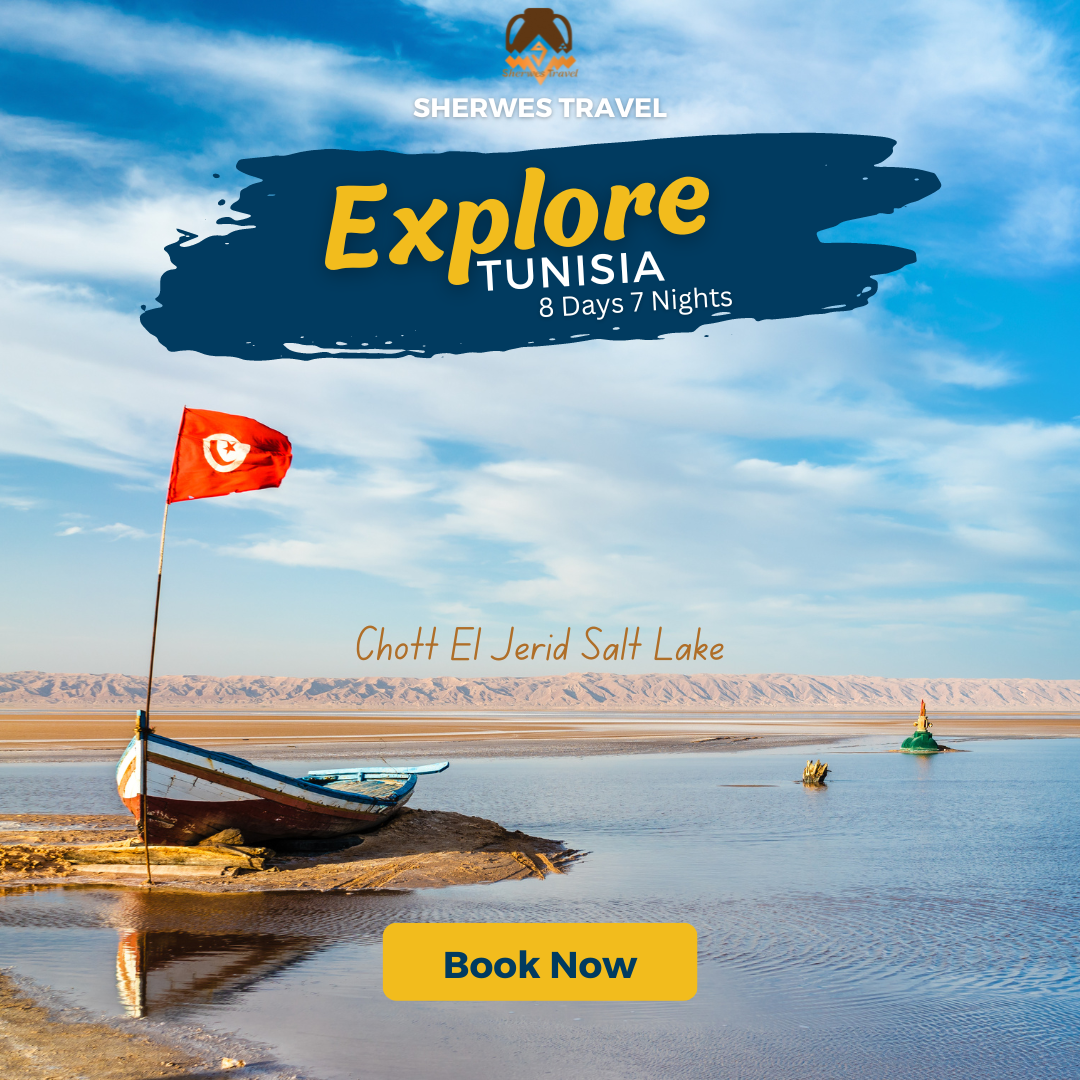 Perceived only as a mere destination for summer vacation, Tunisia is a country full of surprises for those who want to venture beyond its sandy shores. Here you can have vast dunes of Saharan sand, the culture-specific to North Africa, ancient ruins full of history, and exotic cities… all in one country called Tunisia. Located on the southern shores of the Mediterranean, Tunisia is accessible and blessed with a warm sunny climate, making it an ideal destination all year round.
Highlights
Tunis – Bulla Regia – Dougga – Carthage – Sidi Bou said – Dougga – Kairouan – Gafsa – Sbeitla – Tozeur – Mides – Chebika – On Jemel – Douz – Chott El Jerid – Ksar Ghilane – Chenini – Tataouin – Matmata – Sfax – E Jem – Monastir – Hammamet –  Bardo Museum – Medina of Tunis
Learn about the origins and history of the ancient Punic, Berber and Roman settlement​ of Bulla Regia

Explore to the whitewashed Moors village of Sidi Bou Said, stroll along the narrow streets to see the magnificent view from the cliff and later relax with a mint tea at the famous Café Sidi Chabaane.

It's hard not to be impressed by the remains of the Roman city of Bulla Regia, What makes them particularly unique are the two-story dwellings dotted throughout. Find out more during your tour…

Experience Star Wars film locations in Douz

Enjoy a camel ride through the dunes in Douz

Adventure in vast salt lakes, the palm-fringed respite of desert oases, rocky coastlines lapped by azure water – Tunisia has a wealth of incredible landscapes.
Included
English speaking local guide
Not Included
Extra services in hotels such as phone calls, laundry, and room service…Etc.