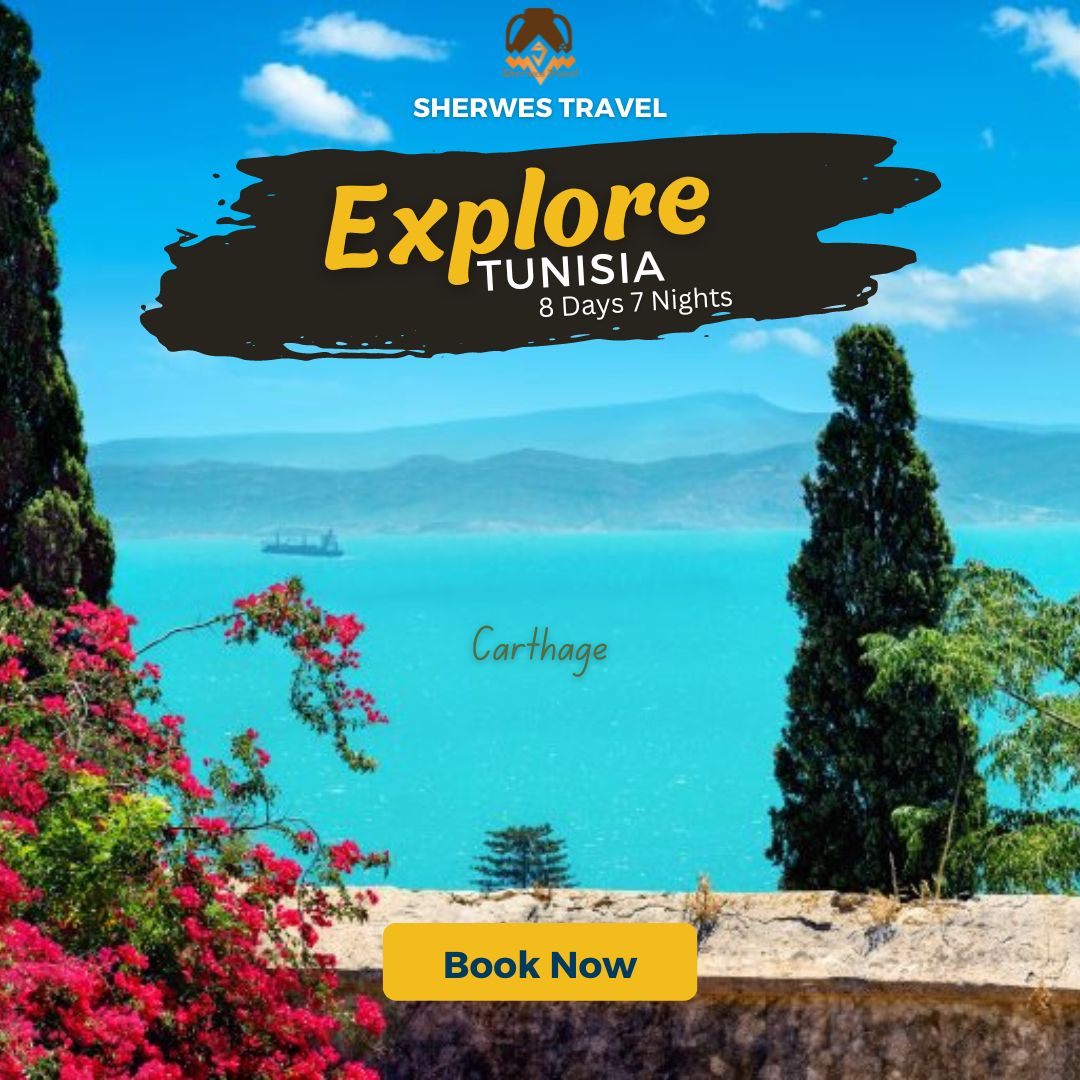 Perceived only as a mere destination for summer vacation, Tunisia is a country full of surprises for those who want to venture beyond its sandy shores. Here you can have vast dunes of Saharan sand, the culture-specific to North Africa, ancient ruins full of history, and exotic cities… all in one country called Tunisia. Located on the southern shores of the Mediterranean, Tunisia is accessible and blessed with a warm sunny climate, making it an ideal destination all year round.
Highlights
Tunis – Carthage – Sidi Bou said – Bulla Regia – Dougga – Kairouan – Gafsa – Sbeitla – Tozeur – Mides – Chebika – On Jemel – Douz – Chott El Jerid – Ksar Ghilane – Chenini – Tataouin – Matmata – Sfax – E Jem – Monastir – Hammamet –  Bardo Museum – Medina of Tunis
Learn about the origins and history of the ancient Punic, Berber and Roman settlement​ of Bulla Regia

Explore to the whitewashed Moors village of Sidi Bou Said, stroll along the narrow streets to see the magnificent view from the cliff and later relax with a mint tea at the famous Café Sidi Chabaane.

It's hard not to be impressed by the remains of the Roman city of Bulla Regia, What makes them particularly unique are the two-story dwellings dotted throughout. Find out more during your tour…

Experience Star Wars film locations in Douz

Enjoy a camel ride through the dunes in Douz

Adventure in vast salt lakes, the palm-fringed respite of desert oases, rocky coastlines lapped by azure water – Tunisia has a wealth of incredible landscapes.
Day 1: Accommodation in Tunis -Hotel Majestic 4*

The 4-star Majestic Hotel Tunis is set 1.2 km to Avenue Habib Bourguiba and approximately a 16-minute walk from Al-Zaytuna Mosque. Boasting location next to Central Market, the hotel offers 77 rooms together with a lounge bar onsite.
Some of the air conditioned units feature complimentary WiFi and a flat-screen TV with satellite channels as well as a mini bar fridge, coffee and tea making equipment. These spacious units are furnished with sound-proofed windows along with a sofa set and a work desk. Providing a separate toilet and a shower, the bathrooms are equipped with hairdryers and bathrobes.
This comfortable hotel serves a buffet breakfast every morning. The on-site bar features a piano and a lounge. Chicken-House offers a selection of dishes a 5-minute walk away.
This Tunis hotel provides cots and babysitting for families with children. A spa salon will surely help you switch off. There is a 24-hour business centre available for corporate travellers.
The accommodation is placed about 0.5 km from Carthage airport and a few minutes' walk from the shoe store "Central Parc". Guests can reach the centre of Tunis within 15 minutes' walk. This comfortable hotel is located a mere 1.1 km from Square of the medina. Habib Bu Ruqaiba bus station is in 10 minutes' stroll from Majestic Hotel.
Check-in: from 07:00 until 12:00
Check-out: from 04:00 until 14:00
Day 2: Accommodation in Kairouan -Hotel La Kasbah  5*

ISO 9001 version 2008 (accommodation and catering) & ISO 22000 version 2005
Hotel La Kasbah Kairouan is located in the heart of the holy city of Kairouan.
This hotel, both luxurious inside, and sober outside, blends into the Arab-Muslim architecture of the city of Kairouan.
The hotel, of very recent construction, incorporates some old wings that have been restored, such as the Moorish café, of exceptional beauty.
Rooms & Suites
La Kasbah, a world-class 5-star hotel in Kairouan, has 94 rooms, 2 junior suites, and a presidential suite. All rooms are equipped with air conditioning, satellite TV, international telephone, mini-bar, private safe, bathroom, and separate toilet.
Number of rooms: 97  Number of beds: 202  Double rooms: 97  Single rooms: –  Presidential suite: 1  Junior suite: 2
Standard Rooms
All rooms at the hotel La Kasbah Kairouan are equipped with air conditioning, satellite TV, international telephone, a mini-bar, a private safe, a bathroom, and a separate toilet.
Hotel Services
Swimming pools: A large outdoor pool and a children's paddling pool.
Moorish coffee: Turkish coffee, mint tea, and Tunisian pastries.
Bar: Refreshing drinks.
Wellness area (renovated): Moorish and relaxing bath.
Barrouta: A reception room where various refreshing drinks are served.
La Chicha: Moorish café where Turkish coffee, mint tea, Tunisian pastries, and hookah are served in an exceptional setting.
Seminars & Events
Ideally located in the heart of the medina of Kairouan, this charming hotel of large proportions, with personalized and luxurious rooms, is the rendezvous of elegance and comfort.
It offers a perfect setting for the organization of seminars, meetings, and banquets with a room for up to 150 people, a 650-seat caïdal tent (December 2008), and a terrace of the same capacity for banquets around the pool.
The hotel has two restaurants, one à la carte, a lobby, and a Moorish café as well as a wellness center.
Restaurants
Hotel La Kasbah has a main restaurant, Rakada, with 300 seats, and an à la carte restaurant, Sofra. The cuisine is international with local specialties.
Day 3: Accommodation in Tozeur – Ksar Rouge Hotel  4*

At the gates of the Tunisian Sahara, on the heights of Tozeur oasis, overlooking the palm grove and the Great Salt Lake (also called Chott el Jerid), The Ksar Rouge hotelis built in an Andalusian style. The hotel is located 10 minutes away from the airport.
Accommodation
The accommodation part of the hotel offers three levels:
– Ground floor (reception level)
– Upper garden (pool level)
– Lower garden (garden level)
Its 134 rooms and 8 suites (junior and senior) are equipped with air conditioning, telephone, satellite TV, mini bar, hair
dryer, separate toilet, bath, balcony, view of the pool or palm grove.
Different kinds of accommodation are available : double, triple, quadruple, double and a child, connecting rooms, and even duplex apartments consisting of two bedrooms. Free services are available at the reception of the hotel:
currency exchange, Internet and safes.
Catering and bars
The Ksar Rouge hotel offers several dining venues for a variety of menus:
– A main restaurant with breakfast buffet, table service at
lunch, buffet or table service at dinner.
– Theme Nights three to four times a week.
– A snack bar by the outdoor pool.
– A main bar near the reception, and a Moorish café for a more cozy atmosphere.
Sports and entertainment
The Ksar Rouge Eldorador Hotel is a resort hotel and offers as
such entertainment and sports areas:
– An outdoor infinity pool.
– An indoor pool heated in winter.
– Two tennis courts quick (rackets and balls on request,
lighting fee)
– A Beach Volleyball ground.
– A play area for Petanque.
– Other activities: Table tennis…
– A nightclub
The hotel also offers activities for children:
– The outdoor pool has a paddling pool for children.
– The Mini Club is a separate building in the form of a small house, open during the school holidays, which offers supervised activities for children.
– Babysitting, extra charge service, on request.
Professional events, Golf, Wellness
The Ksar Rouge hotel offers the following amenities:
– A convention center for meetings and conferences of your business or association events.
– A spa center to benefit from wellness treatments.
– Golf : within the beautiful Oasis of Tozeur, between thedunes and the palm grove discover a 18 holes course (planned extension to 36 holes).
Day 4: Accommodation in Douz – Hotel Sun Palm  4*

Discover in Douz a dream landscape on the edge of the desert.
You will experience exceptional moments in the natural setting in which the hotel Sun Palm Douz is located.
The Sun Palm Hotel will be your oasis to recharge your batteries after a day of off-road car or camel rides.
Rooms & Suites
The Sun Palm Hotel in Douz offers 127 rooms and 2 suites, with air conditioning, telephone, satellite TV, and bathroom.
Favourites: LE FIGARO MAGAZINE
"Spending a night in the desert is always a wonderful experience. The Sun Palm Hotel in Douz (www.goldenyasmin.com), organizes private camps in the first dunes of the Great Eastern Erg We are treated like a prince by the two camp managers and we spend the evening under the stars enjoying the great peace of the desert
Services
Swimming pool: large freshwater pool.
Hammam: Turkish bath with multiple benefits.
Algo-therapy: A specialist in algo-therapy offers you a cure based on seaweed for a stay or a successful thalasso weekend in Tunisia.
Leisure: Table tennis, billiards, carriage, or camel rides.
Douz Festival: The Douz Festival held at the end of each year is an opportunity for any visitor to discover the traditional life of nomads. In addition to equestrian exercises and fantasias, the festival organizes races of desert greyhounds (Slougui) and meharis.
Certifications
Certified CRISTAL FOODCHECK 2017
Certified ISO 9001 version 2008 and ISO 22000 version 2005
Sun Palm Douz is ISO 9001 2000 certified (Reservation, Reception, Accommodation, Catering, and Outside Catering) with accreditation by Cofrac and Ukas.
Included
English speaking local guide
Not Included
Extra services in hotels such as phone calls, laundry, and room service…Etc.